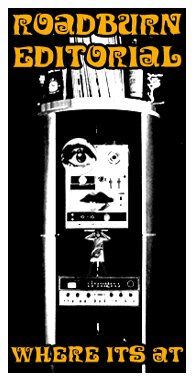 Hello friends, and welcome to the 'burn. There is a certain kind of shared experience here that makes Roadburn more than just a website, and makes you more than just a visitor. Roadburn is an online community joined together by the love of tube-driven distortion and crackling electric guitars. It is a community of friends who know the rebellious release of rock and roll, people outside "respectable" society who are more comfortable being a misfit in a misfit family.

Roadburn is a gut level understanding of the hard rock riffs born in the late 60's that have come to adulthood with today's amazing recording technology. It is the classic sounds of Hawkwind, Black Sabbath, Jimi Hendrix, Mountain, Leafhound, Funkadelic and Pentagram. It is also Solace, Place of Skulls, Orange Goblin, Brant Bjork, The Heads, Dead Meadow and Electric Wizard. Roadburn is the willingness to throw yourself completely naked into the transcendental emotional experiences that is Kyuss.

Roadburn is waiting for you...







PLAYLIST
The best albums that grace the Roadburn desks right now...

Click here for the Roadburn picks [Nebula's "Apollo", Neumeier Genrich Schmidt's "The Intergalactic Travel Agency" & Sun Dial - "Other Way Out" among others] and Laurel's [of 420 Trainwreck] playlist, featuring Kyuss, Melvins & Toner Low to name but a few.

The Roadburn picks!





ACID MOTHERS TEMPLE & THE COSMIC INFERNO - "STARLESS & BIBLE BLACK SABBATH"
[CD - Alien8]
A glorious head fuck by a sonic phallus of elephantine dimensions.

Probably the most ludicrous, grandiloquent, and endearing acid rock band from any era, their latest vertiginous swirl of mind-blown psychedelia has enough churning guitar grunt and incendiary, Zappoid / Eddie Hazel wah-soloing to generate a black hole of freak out, that sucks you into it's stygian depths at the first sitting. If you weren't a fan of these Asian krautrock evangelists before then one spin of this transcendental album and you surely will be -jason.





BLACK COBRA - "BESTIAL"
[CD - Delboy Records ]
Ex-members of Cavity & 16 return with a pulverising debut full-length.

Big Fuzzy riffs, and bigger not so fuzzy vocals, this is riotous fucked up sludge punk to hammer squirrels to death by... Bad, dirty fun for belligerent drunks of all ages. If you dug on their splendidly truculent 3-tracker E.P, thou shalt be all over this like black on Guiness -jason.





NEBULA - "APOLLO"
[CD - Cargo Records]
New album from these US desert rock pioneers.

"Apollo" marks the return of Californian power trio Nebula. Eddie, Ruben and new bassist Tom Davies explore some previously uncharted territories, throwing in electric blues and fucked-up 60's psychedelica for good measure, while still staying true to their 'classic' sound. In short, "Apollo" is a super-charged extension of Nebula's live experience -like most of the band's previous outings. What you hear is what you get, and in case of "Apollo", it's to the 10th power! -walter.





NEUMEIER GENRICH SCHMIDT [THE PSYCHEDELIC MONSTERJAM] - THE INTERGALACTIC TRAVEL AGENCY"
[CD - Sunhair Records]
Krautrock luminaries sail into the furthest reaches of the earth's stratosphere.

Consisting of Guru Guru's Mani Neumeier & Ax Genrich and Dave Schmidt of Sula Bassana / Zone 6, The Psychedelic Monsterjam venture into deep inner space. Their soaring instrumental excursions traverse psychedelic rock, krautrock, world music and even some jazz. Through the excellent blend of cosmic wailing trip guitars and hypnotic grooves, their freeform but totally controlled improvisations swell & ebb like a soundtrack for intergalactic travels yet to be made -walter.






SUN DIAL- "OTHER WAY OUT" / "RETURN JOURNEY"
[CD - Relapse]
Crucial pieces of Sun Dial history.

Founded and helmed to this day by guitarist Gary Ramon, UK's Sun Dial released two seminal psychedelic rock albums in the early 90's. Both "Other Way Out" & "Return Journey" demonstrate how this much lauded band can alternate between heavy, fuzz-laden space rock and psych jam realms [think Hendrix meets Hawkwind, think Pink Floyd meets The Stooges]. "Other Way Out" contains a bonus disc of outtakes and alternative mixes, while "Return Journey" is repackaged with it's original artwork -walter.





SULA BASSANA AND THE NASONI POP ART EXPERIMENTAL BAND - "VOL.1"
[CD Nasoni Records]
Loyal Nasoni artists celebrate one of the finest underground labels around.

Celebrating the 10th anniversary of Berlin's very own Nasoni Records, Sula Bassana and the Nasoni Pop Art Experimental band delivers a dazzling piece of heavy psych. Brimming with swirling liquid and fuzz-laden psychedelic guitars and lysergic arrangements, "Vol.1" offers the core of Germany's contemporary psychedelic / spacerock musicians. These guys excel at drifting into refined pyshedelica, often recalling the weighty psych bands of the late 60's / early 70's like Amon Duul II, 13th Floor Elevators and The Stooges at their most spaced-out basic -walter.





V/A - "KRAUTROCK - MUSIC FOR YOUR BRAIN"
[CD - Target Music]
Outstanding Krautrock overview.

A stunning 6 CD-set from the annals of German-rock. Can, Faust, Guru Guru, Jane, Grobschnitt, Lucifer's Friend, Cluster & Birth Control are among the featured bands, whose contrary, visionary music is as extraordinary now as then. This comprehensive selection acts as a wonderful primer to those who have yet to enter the confounding yet deeply rewarding arena of that most enigmatic sonic Kults, Krautrock -walter.
Thanks to Suburban.


---
Laurel's Playlist



KYUSS - "WELCOME TO SKY VALLEY"
A true stoner symphony. This album sends me somewhere. And when I can't think of what I want to hear, I just play "Sky Valley." I can't live without it and it is a staple in my iPod.

THE MELVINS - "A LIVE HISTORY OF GLUTTONY AND LUST: HOUDINI LIVE"
Ah, The Melvins. What can I say? Gotta love 'em. "Houdini", alongside "The Maggot", is my favorite Melvins album, so I was thrilled when this was released.





SONS OF OTIS - "SPACEJUMBOFUDGE"
Sons of Otis - my favorite band on the planet, right on up there with 35007. I can't get enough of them. Talk about heavy psychedelic sludge! Whew. Bowls me right over. So male and sexy; Ken's growling vox. I feel this way about all of their albums.





TONER LOW - "S/T"
[CD - Roadkill Rekordz]

I love this CD. Big and heavy, multi-textural and intelligent. They were certainly a Roadburn 2006 highlight for me. I love this band.

WITCH - "S/T"
[CD - TeePee Records]

I have become addicted to this CD. Love the heavy, lumbering psych riffs. The vox I find haunting, especially in tracks such as "Isadora" and "Seer." Sorry I missed them at SxSW this year.

Please mail us your playlists as well -and tell us what you like about the records, and we'll make a selection of the albums on heavy rotation at our readers home!!!


---



Listen to the VPRO 3voor12 on-demand web casts of the previous Roadburn Festivals [including Hawkwind], and tons of other stuff, ranging from Earth to Dungen and Comets on Fire [over 75 on demand webcast avialable].